Five universities launch a project aimed at improving inclusion at higher education institutions
International Cooperation Press Release

As of November 2021, the UWB Information and Counseling Center is in charge of a three-year project focusing on inclusive education at higher education institutions entitled "Changing Our Story: The Pursuit of Inclusive Education" (ECHOS).
Using the method of storytelling, the partner institutions from the Czech Republic, Slovakia, the Netherlands and Ghana are trying to change the perception of inclusion and communicate how inclusive principles are applied in higher education. The project, which is co-funded from the EU's Erasmus+ program, defines inclusion in the widest sense of the word as the inclusion of people who are disadvantaged for health, social and cultural reasons, including foreigners, religious minorities or members of the LGBT community.
The project is designed to have a practical orientation and its participants intend to focus on challenges and opportunities which the various countries and institutions face, offer solutions and innovative results, and at the same time reflect any local and cultural contexts.
Inclusion in higher education is often discussed as a principle which we should strive for, but one which is only slowly being implemented in practice. A large number of teachers at Czech universities do not possess the knowledge or skills necessary to create an inclusive environment. For this reason, the project team puts emphasis on the involvement of students, staff and educators in the higher education sector.
In 2022–2024, the project team plans to hold a total of seven events, including two international conferences on the subject of inclusion and diversity, summer schools for students from participating universities, as well as meetings on this subject. The main output of the project will be an online course, which will serve as a guide for counselors, academics or anyone else who may be interested in the topic of inclusion. The subject should also be presented in the form of an exhibition and a documentary film. Students from the participating institutions are already managing a topical Instagram account.
The first conference, entitled "What is Our Story of Inclusive Education?", was held online via Zoom.
Project partners:
The University of West Bohemia (Czech Republic), Constantine the Philosopher University in Nitra (Slovakia), The Hague University of Applied Sciences (The Netherlands), The International Institute of Social Studies at Erasmus University Rotterdam (The Netherlands)
Associated partners:
The Ministry of Education, Science, Research and Sport of the Slovak Republic (Department of Inclusion), The Regional Center for Education and Language School, Pilsen
Other partners:

University for Development Studies (Ghana), Tady a Teď, Fokus Praha, SNN, The City of Pilsen
Gallery
---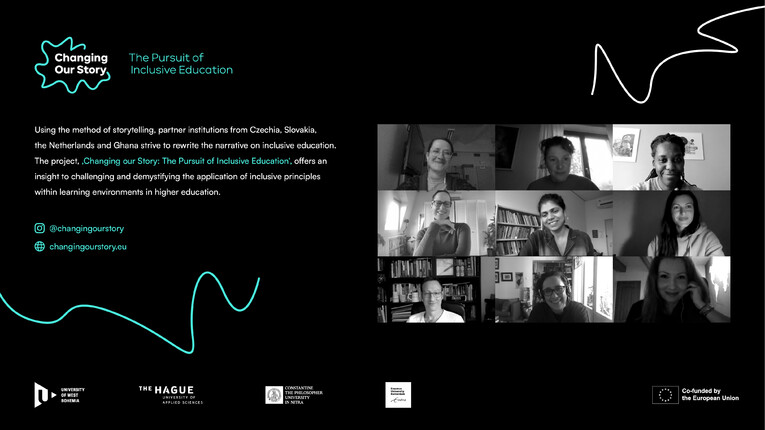 University-wide

Šárka Stará

16. 02. 2022
---