ORIGINAL LOIRI

20 - 20
July - August
20. července, 18:00 - 20. srpna, 15:00
Ladislav Sutnar Gallery, Riegrova 11, Pilsen
Ladislav Sutnar Gallery is pleased to announce the solo exhibition ORIGINAL LOIRI. Pekka Loiri (Finland) is a renowned graphic designer, the 2019 Ladislav Sutnar Prize laureate, and a visiting professorat the 2022 Art Camp summer school.
Enter: free

"Poster is a poem, a hammer and an open wound. It is a sophisticated anarchist, a messenger, a postman and a spokesman at the same time."
The exhibition ORIGINAL LOIRI displays a broad selection of poster designs, features unique murals created by student of illustration Anfisa Lanno, and motion design posters contributed by students Denisa Půbalová, David Jurion and Šimon Míča of the Studio of Interactive Design at Sutnarka, all of which come inspired by the graphic design of Pekka Loiri.
Gallery
---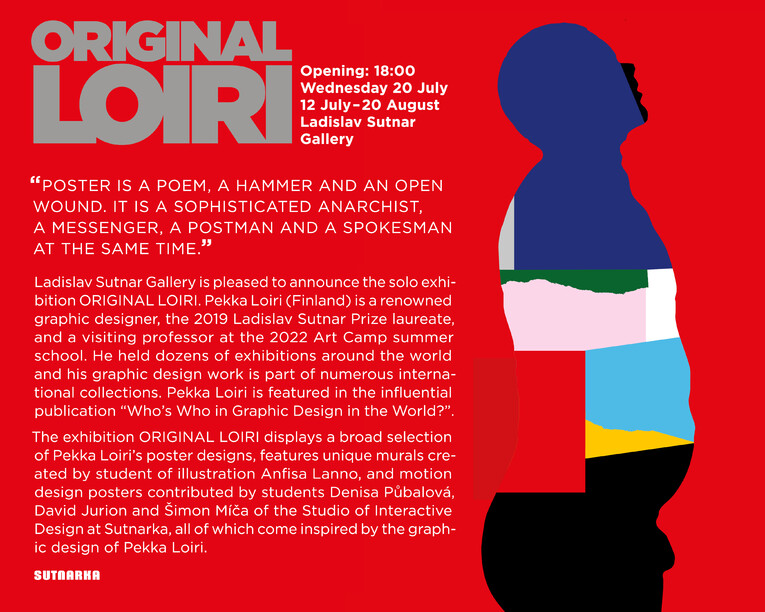 Ladislav Sutnar Faculty of Design and Art

Lenka THOMAYER OPATRNÁ

20. 07. 2022, 18:00
---