An international conference focused on the structure of materials
Conference Cooperation Science

The NTC Research Center, specifically the research team of prof. Dr. Ján Minár, co-organized in the last week of June the international workshop APCOM 2021 (Applied Physics of Condensed Matter) focused on photoemission with the extension of electron microscopy under the designation CSPES 2021.
The workshop took place under the auspices of the ongoing project CEDAMNF (Computational and Experimental Design of Advanced Materials with New Functionalities) of the Department of Advanced Materials. It took place, traditionally, in the High Tatras at Štrbské Pleso. Over 100 top scientists and researchers in the field of applied physics from across Europe.  attended the event. During the invited lectures, such personalities as Dr. Martin Gmitra (Pavel Jozef Šafárik University in Košice, Slovakia), doc. RNDr. Pavol Valko, Ph.D. (Slovak University of Technology in Bratislava), Dr. Mauro Fanciulli (Cergy Paris University, France), prof. Karol Hricovini (Université de Cergy-Pontoise, Paris, France), Dr. Juraj Krempaský ​​(PSI, Villigen, Switzerland) and Dr. Fatima Alarab (PSI, Villigen, Switzerland), doc. RNDr. Miroslav Cieslar, CSc (KFM, MFF UK in Prague, Czech Republic) and RNDr. Ondřej Šipr, CSc (NTC, UWB in Pilsen) introduced themselves.
"Our workshop aimed to support and strengthen international cooperation between researchers focused on theory and experimental measurements. We devoted the section CSPES 2021 to the development and application of experimental techniques and theoretical methods in the field of research of electronic properties of materials," described the conference Ján Minár. In addition to the exchange of information, the researchers also addressed issues of possible cooperation on research topics, in OP JAK projects, etc. More information can be found at the event. website.
Gallery
---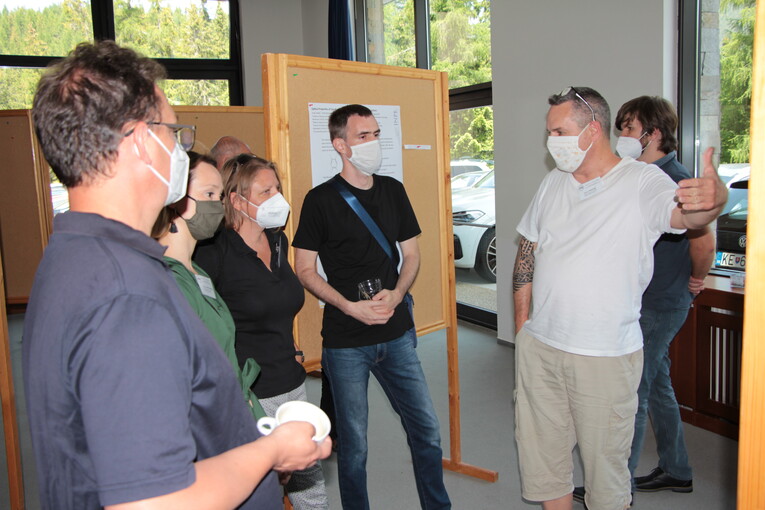 New Technologies - Research Centre (NTC)

Dita Sládková

30. 06. 2021
---