Graduation Ceremony of the Children's University at the Faculty of Education
Press Release University Public
The interest in this year's edition was extraordinary. 210 children registered, which is 80 more than in 2021.
In the winter term, a total of 91 children from primary schools and corresponding years of multi-year gymnasiums attended the Children's University at the Faculty of Education (FE) of the University of West Bohemia in Pilsen (UWB). This was an opportunity to learn more about the subjects they know from school in a fun way. On 7 February, the children received their certificates from Dean Pavel Mentlík.
Exploring the World in Virtual Reality, Prime Numbers and Ciphers, Cracking Old Languages, Superheroes in the Photo Studio, Grammar and Spelling Games, Matching Words in German and Czech, Interesting Physics Experiments – these were just some of the subjects offered by the Children's University at the Faculty of Education. Children could pick from a total of 88 different courses. From these, they created their individual schedule for the winter term. Courses in natural sciences and technology were among the most popular, in particular chemistry, physics and computer science. Microscopy was also in high demand, and so was bouldering and other physical activities.
"This year, we have seen an extraordinary level of interest with 210 children registered. That's 80 more than in 2021," said the FE's Vice Dean for External Relations and Lifelong Learning Michaela Voltrová. "The capacity was filled about 90 minutes after registration opened. We tried to increase the capacity as much as possible, added several more courses, involved even more students and opened a second round of registrations to satisfy as many children as possible," explained the Vice Dean of the FE.
"We want to encourage children's curiosity and the desire to explore the world around them. We give them the opportunity to learn more about topics that there may not be enough time to cover at school," she said, explaining why the courses are so popular with children. "We are also introducing them to the university environment and its teachers at a young age. They can see for themselves that the university is always open to everyone who wants to learn," she added.
91 young students fulfilled all the conditions and received their certificate of graduation from the Children's University. They received their special diplomas from the Dean of the Faculty of Education Pavel Mentlík, and were congratulated by the Rector of the UWB Miroslav Holeček.
In early September, the faculty will open registration for next year, which will start in autumn. The offer of courses and the registration form will be published on the website deti.zcu.cz.
Gallery
---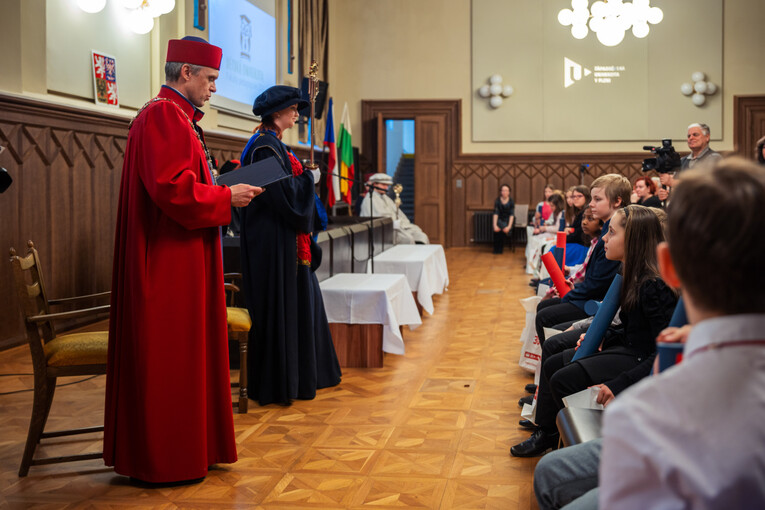 Faculty of Education

Šárka Stará

08. 02. 2023
---