A Student of the Faculty of Health Care Studies Will Participate in the Paralympic Games in Tokyo
As at the recent Olympics, UWB will have its representative at the XVI Summer Paralympic Games, which will be held in Tokyo on Tuesday, August 24.
Vendula Dušková, a third-year student of the Faculty of Health Studies and a future occupational therapist, will compete with the best swimmers in the world.
Born in Karlovy Vary, she was diagnosed with a lipoma on her spine at the age of seven months. The diagnosis came too late, and despite difficult surgery, the nerves in her legs and knees became necrotic. Originally, Vendula started swimming as part of her rehabilitation, and today she is one of the best Czech para-swimmers. In addition to many domestic achievements, she participated in the Paralympic Games in Rio. She considers the participation in finals in Rio and the second place at the 2018 European Championships to be her greatest achievements.
The preparation for Tokyo was different from for Rio. "Actually, everything has changed. We have a new trainer, a fitness trainer and a physiotherapist are involved in the preparation, and we train at different locations. The preparation for Rio was focused on two of us. Now, we have a big group of Paralympians and healthy swimmers who are our sparring partners. Covid changed our plans, but it's a song already played," says the swimmer.
Vendula Dušková is partially confined to a wheelchair, but she successfully manages to combine study and sports. Therefore, she is one of the 21 students of the University of West Bohemia included in the UNIS programme of the Ministry of Education, Youth and Sports of the Czech Republic, which supports university students engaged in sports activities through scholarships and subsidies.
On the occasion of the Tokyo Paralympics, Vendula Dušková was chosen by the Czech Paralympic Committee as one of the main faces of the campaign We Are Ready to Shine.
According to the Dean of the Faculty Lukáš Štich, her mettle inspires not only her classmates, but also academic staff and other employees. "There are many talents, both students are graduates, who have overcome difficulties and went far within our Faculty. Some succeeded professionally, some in sports, others in the field of volunteering. Of course, we are pleased to see them both successful and happy. We try to support them as much as we can and try to keep in touch with them after they leave our Faculty as successful graduates. They are an inspiration and motivation for us, and messengers of good news, of which there is never enough," said the Dean.
Gallery
---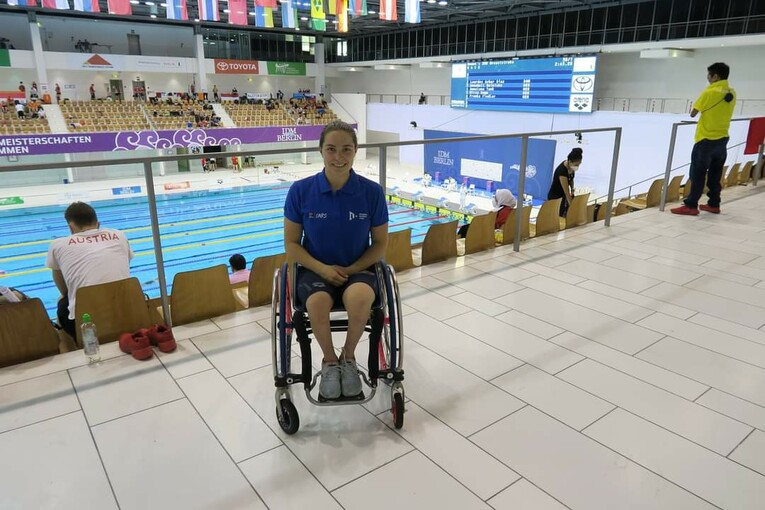 Faculty of Health Care Studies

Pavel KORELUS

23. 08. 2021
---