ArtCamp fulfils wishes
Further Education International
Designing jewellery, perfecting your skills in painting and figure drawing, working with porcelain, creating storyboards, designing logos, exploring various art techniques - put simply, the ArtCamp summer school, organized by the Sutnar Faculty, gives you an opportunity to fulfil your dreams.
And that is exactly why more than 300 participants decided to attend the 16th ArtCamp in the summer of 2022. Some of them wanted to prepare for their entrance exams, some wished to obtain new skills, become acquainted with new artistic techniques and develop their talents, others simply wanted to spend a part of the summer holiday in a creative and inspirational environment. A total of 31 courses, ranging from hobby courses to preparatory and professional workshops, were organized in three weeks in July.
Every day of ArtCamp presents new challenges and brings its participants closer to their artistic goals. Some of them are faced with specific artistic tasks for the first time in their life, trying to draw a life-size figure, creating a ring with a stone, designing a visual style for a ZOO, setting an animation in motion, inventing and drawing a comic strip or designing the model of a house of their dreams. Others use their time at the Sutnar Faculty for intensive consultations with its teachers and to prepare for their entrance tests. Feedback from the teachers and instructors is an integral part of the programme every day. The participants work both individually and in teams, in studios and en plein air.
Every Friday, all participants meet at a collective exhibition presenting the results of their work. The afternoon atmosphere on these days is a reward after a week of hard work which requires the participants to process a lot of new information, familiarize themselves with new techniques and give their best. Concentrated work and creative silence are replaced by chatter and noise, as the artists are arranging their works for display and stroll around the other studios. At the end they receive their certificates and have to say good-bye to the new friends with whom they spent time not only in the courses but also during the accompanying activities. This year's programme included a visit to the Adolf Loos interiors, ArtCamp Talks, evening presentations and meetings with the exceptional artists working as ArtCamp instructors, as well as visits to various exhibitions and tours of Pilsen. We also organized a joint opening party at the Sutnar Faculty for the participants of the ArtCamp and the International Summer Language School, and attended the opening of the Original Loiri exhibition at the Ladislav Sutnar Gallery, which presented the oeuvre of the Finnish graphic designer and ArtCamp guest Pekka Loiri.
We would like to thank all participants, instructors and guests of this year's ArtCamp for creating such a wonderful atmosphere and for bringing our summer school back to life after a covid break. See you next year!
Gallery
---
Figure drawing is one of ArtCamp's most popular courses. The participants can also use it as preparation for their talent tests to get into an art school.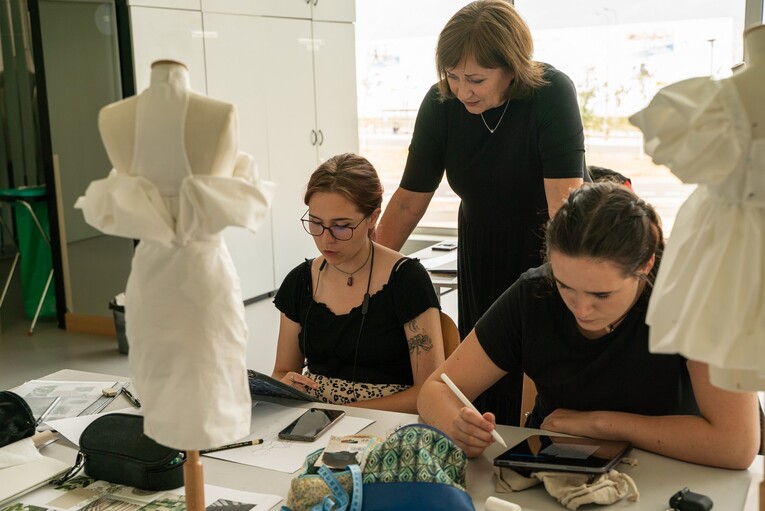 Fashion design is another preparatory course. This year its participants designed clothes on the theme of rhythm and a handbag.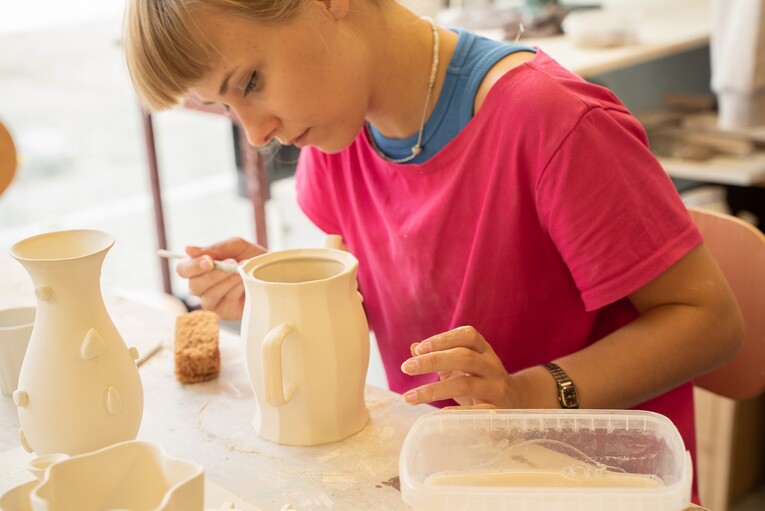 The ceramics design course provided its participants with an opportunity to create a collection of porcelain products and try various decoration methods.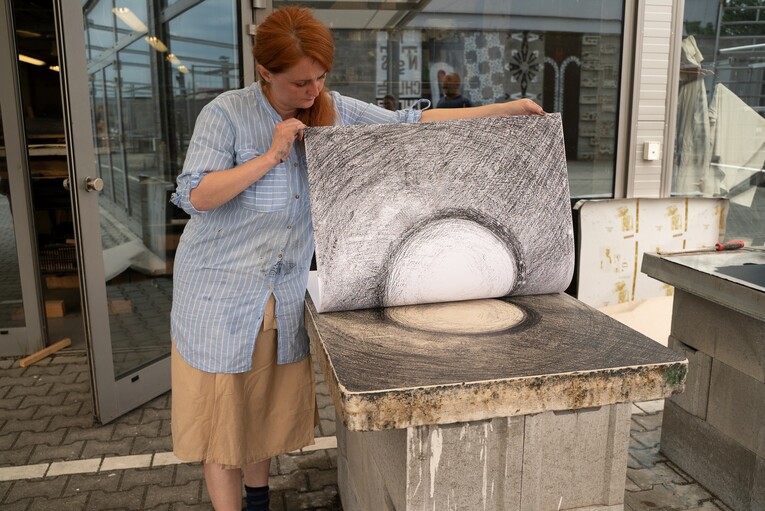 Lithography, a type of printing that uses stone plates, is one of the traditional graphic techniques taught at ArtCamp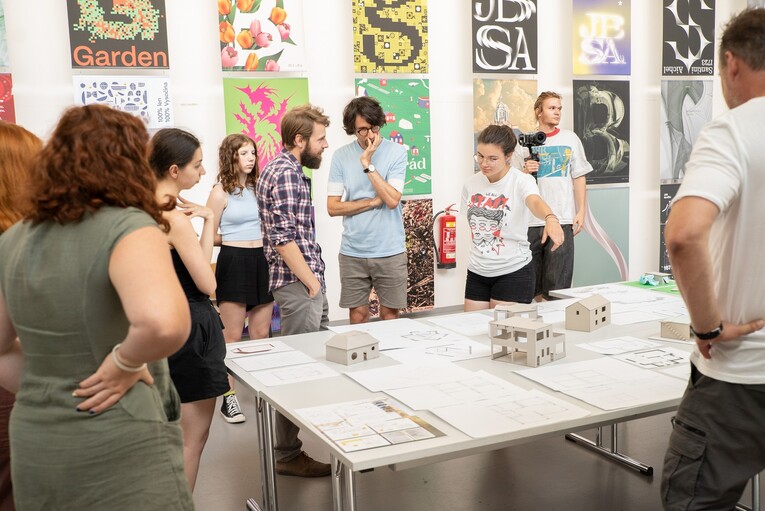 Discussions on the final designs in the architecture course.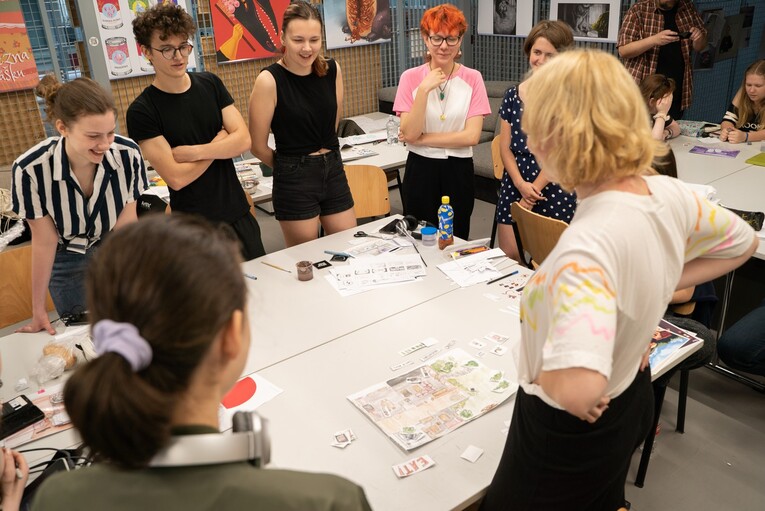 The participants of the computer game visual design course are testing the games they created in just one week.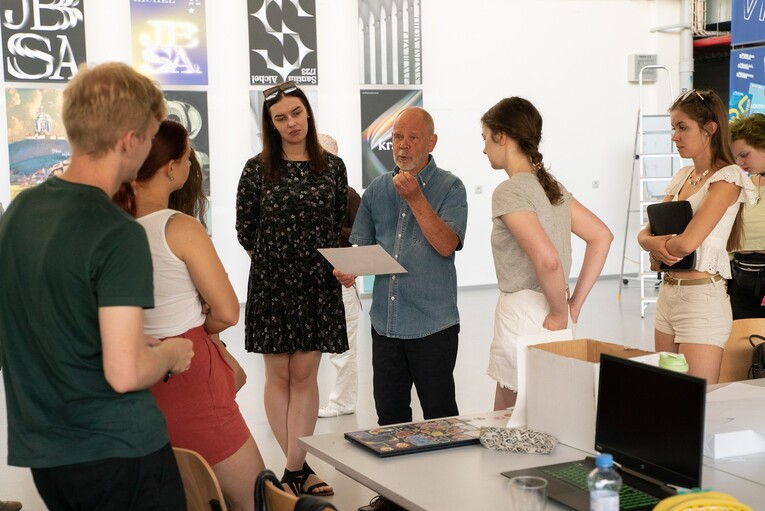 The graphic design course, focused on creative approaches to posters, was led by a guest lecturer, Finnish graphic designer Pekka Loiri.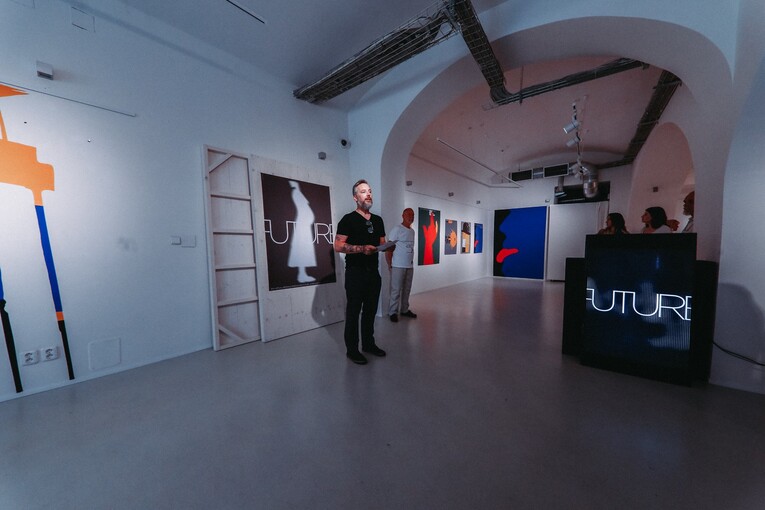 The opening of the Original Loiri exhibition presenting Loiri's posters as well as murals and motion design posters inspired by his artworks.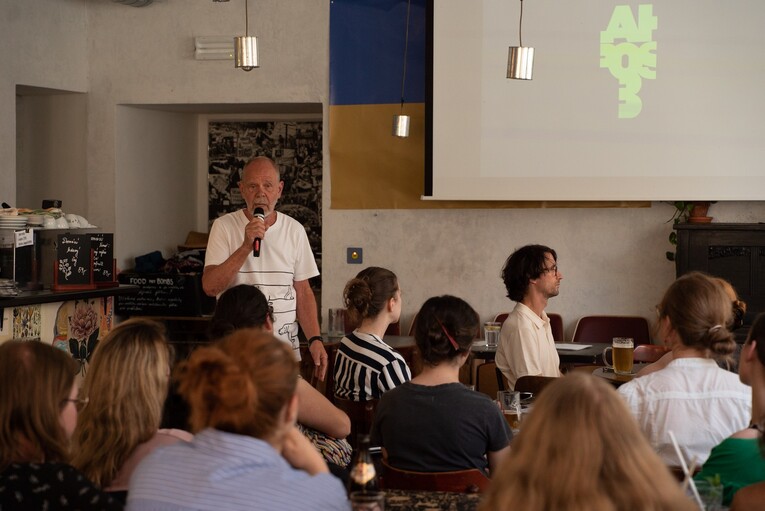 Pekka Loiri was also one of the artists who introduced their artworks during the ArtCamp Talks. These evening presentations include short films and animations created by the Faculty's students.
Ladislav Sutnar Faculty of Art and Design

Lenka Kodýtková

19. 09. 2022
---