Virtual Development in Passive Safety and Human Models for Future Mobility
Research Center NTC and Technische Hochschule Ingolstadt would like to invite you to a workshop, where you will learn about the virtual approach to the development of passive safety elements, how biomechanical models of the human body are used, and what role it will play in the future mobility.
Enter: free
Intended for: students, researchers, employees, the public
Kontakt: Ing. Tomasz Bońkowski
More information at www.vd-safe.tech
The online workshop will address topics from virtual development in passive vehicle safety for the mobility of the future. It will contain research works, reaching from biomechanics and human body modelling to crash and occupant simulations, as well as crash accident reconstruction. The main goal of the meeting is to connect young Bavarian and Czech scientists in this field.
The two main presenters will be prof. Jan Kovanda from the University of West Bohemia, Pilsen and prof. Axel Schumacher from Bergische Universität Wuppertal. At the same time, young researchers will have the opportunity to present their research in this area.
If you are interested, please contact the organizers at events@ntc.zcu.cz. The deadline for submitting a brief description of your topic is August 31, 2021. The event will be held in English.
The workshop will take place under the auspices of Bavarian-Czech Academic Agency (BTHA), Ministry of Education, Youth and Sports (MEYS) and the European Union.
Gallery
---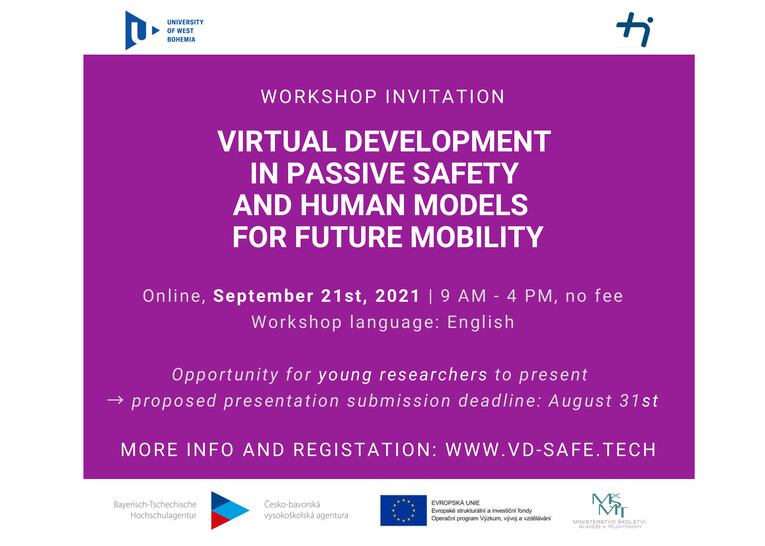 NTC - pozvánka na workshop o pasivní bezpečnosti
New Technologies - Research Centre (NTC)

Dita Sládková

21. 09. 2021, 09:00
---