Another Prehistoric Mound Under the Hill of Říp Archaeologists Have Uncovered Two Stone Age Graves
Cooperation Press Release Science

Archaeologists have been examining a long mound that was discovered in Vražkov in the Podřipsko Region. The mound contained two graves from the Late Stone Age.
A unique project carried out by Czech scientists includes, in addition to archaeological research, extensive chemical analyses of the soil. Therefore, it offers new information about the almost-6000-years-old burial sites.
After researching the uniquely preserved mound nearby Dušníky, archaeologists focused their attention on a similar mound located in Vražkov, which was damaged by erosion and ploughing in the past. "The mound in Vražkov represents a typical situation that we encounter in the agricultural landscape. Its mantle is completely eroded. Only the perimeter ditch and two grave pits, which were also partially damaged by ploughing, have been preserved," says the Head of research Petr Krištuf from the Department of Archeology of the Faculty of Arts.
The mound, which was found utilizing aerial archaeological methods at the end of the '90s, has been researched within an interdisciplinary project entitled "Eneolithic Long Barrows in Bohemia and Reconstruction of the Ritual Landscape Around the Hill of Říp". Archaeologists carry out the research in collaboration with the Centre for Theoretical Study of Charles University, the Department of Archeology of the Faculty of Arts of the University of West Bohemia, and the Faculty of Environmental Sciences of the Czech University of Life Sciences. From the European point of view, it is the first project that is so systematically devoted to the research of long mounds.
"Long mounds, which are the focus of our project, were built throughout north-western Europe at that time, and by this architectural expression, our country claims allegiance to the cultural tradition of the Western Atlantic civilization. We also focus on issues related to the perception of the landscape and the importance of the Hill of Říp for ritual activities of prehistoric people," says Jan Turek from the Centre for Theoretical Study of the Charles University in Prague.
The mound in Vražkov is not one of the largest. It is about 31 metres long and 11 metres wide. Its longer axis is oriented in the east-west direction, narrowing to 6 metres towards the west. The research revealed two grave pits with an internal wooden structure. In the first pit, an adult without any grave goods was buried. The second one was severely damaged by ploughing and contained dislocated human bones and a broken ceramic vessel. "It turns out that poor grave goods were typical of these mounds. The significance of the buried person was rather emphasized by the monumentality of the mound," says Petr Krištuf.
The project is unique in its interdisciplinary focus. For example, it involves a large number of environmental analyses. "Thanks to the analysis of prehistoric DNA, it will be easier to trace the family relationships of the buried humans. This will at least partially revive the relationships our long-dead ancestors had with each other," points out Jan Turek.
Gallery
---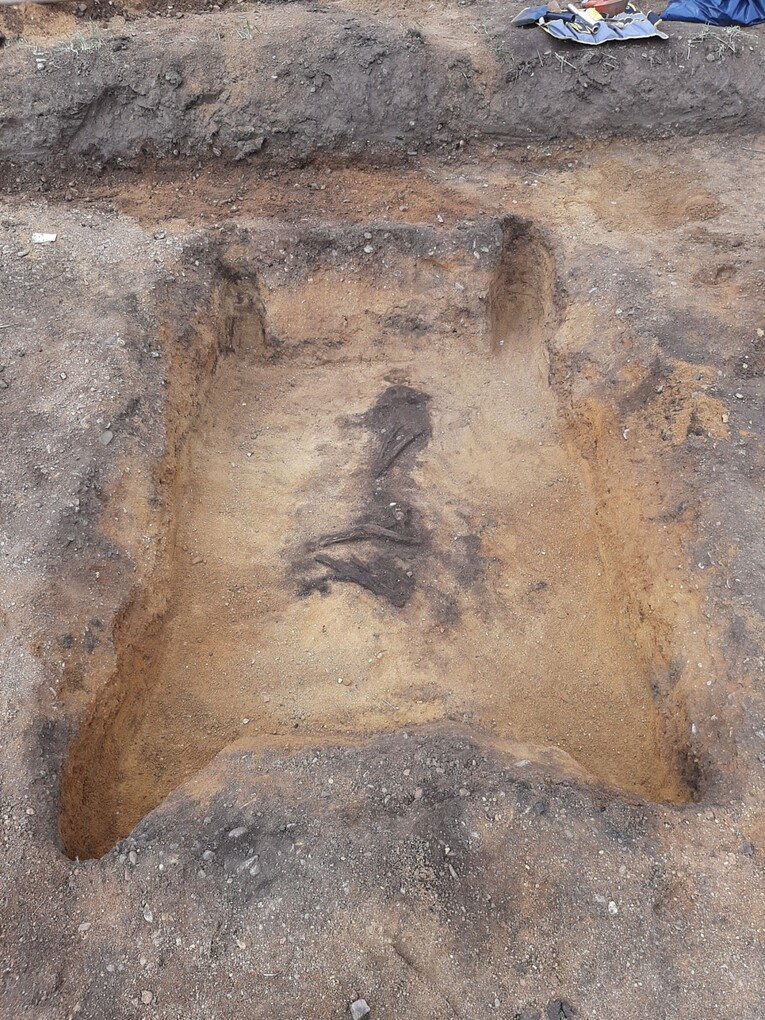 Faculty of Arts

Šárka Stará

15. 10. 2021
---