Erasmus+ OptimTex: Software tools for textile creatives

Researchers and students of the PhD programme of the Department of Materials and Technology of the FEE UWB participated in 3 Intensive Study Programmes (ISP) within the Erasmus+ project OptimTex: Software Application for Textile Design, of which they are members of the research consortium.
The first intensive study programme was organised in March 2022 by the Romanian University Gheorghe Asachi. It was mainly focused on practical training with software for automatic 3D seamless knitting on flat knitting machines, where it can be advantageously used in the field of electronic textiles.
A second intensive study programme was organised in June 2022 by the University of Maribor, Slovenia. This course focused on the virtual prototyping of garments using photogrammetry and on a module prepared by the Department of Materials and Technology, which focused on the SW design and implementation of electronic textiles using an automatic embroidery machine. In addition to the theoretical lectures, the module included a practical workshop, during which 20 students from the universities of Ghent, Maribor and Iasi and the University of West Bohemia were able to design and implement a textile moisture sensor with LED feedback or textile with an embroidered heating element. This workshop received a great response and remarkably positive reactions.

The third and final intensive study programme will take place at the end of October 2022 at the University of Ghent in Belgium and will focus on hands-on training with 3D weaving software. PhD students from the University of West Bohemia will also participate in this programme, and staff from the Department of Materials and Technology will give lectures on embroidered electronics.
All the educational materials developed for each module are available in the Moodle environment on the Optimtex e-learning portal. Further details can be found on the project website Optimtex.
The authors would like to acknowledge the support of the EC Programme Erasmus+, Project n° 2020-1-RO01-KA203-079823 Software tools for textile creatives, acronym OptimTex. This project has been funded with support of the European Commission. This publication reflects the views only of the author, and the Commission cannot be held responsible for any use which may be made of the information contained therein."
Gallery
---
Realization of embroidered humidity sensor on the automatic embroidery machine.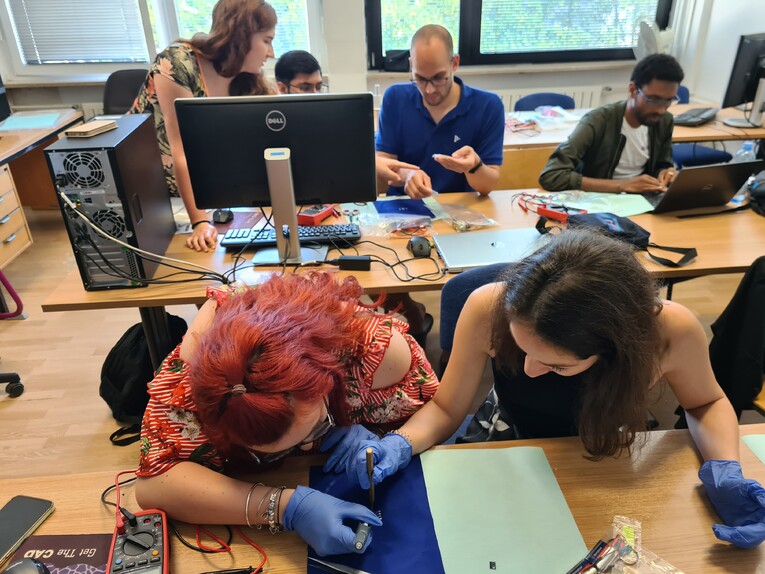 Students are mounting the LEDs on an embroidered conductive pattern using a non-conductive UV curable adhesive technology. This technology has been developed at the University of West Bohemia.
Faculty of Electrical Engineering

Řeřicha Tomáš

21. 10. 2022
---