Sociologist Jan Váně and his team receive the Good Soul Award
Pilsen's annual traditional 'gathering of angels', i.e., workers and volunteers in social services who are recognized by the City of Pilsen, was held in the Měšťanská Beseda building. One of this year's awards went to the Faculty of Arts at the University of West Bohemia.
For the second time, the Zlatý Anděl (Golden Angel), Dobrá duše (Good Soul) and Andělské ruce (Angelic Hands) awards ceremony has been disrupted by the coronavirus pandemic, so the planned gala evening was replaced by personal recognition of those without whom our society could not properly function in the current situation. The Golden Angel Award for 2021 went to Ludmila Ševčíková; the Good Soul Award went to eight partners, and the recipients of the Angelic Hands Award were 36 social services employees. Also this year, the Angel in Memoriam Award was conferred. The recipients received a video congratulatory greeting from the Mayor of the City of Pilsen, Martin Baxa, and Deputy Mayor, Eliška Bartáková, who is in charge of the social services agenda.
The Good Soul Award went to the Head of the Sociology Department at the Faculty of Arts, Jan Váně, and his team - students Jolana Vrzalová, Kateřina Štancová, Nikol Kubátová, Bara Polenová and Martin Boška. Good Souls are partners of the City of Pilsen who gave a helping hand when it was needed or did some work for the city above and beyond their call. Jan Váně's team received the award for "long-term beneficial cooperation of the Faculty of Arts at the University of West Bohemia with the City of Pilsen in the area of social services", such as the research study into homelessness, which is aimed at helping the city resolve this issue.
Gallery
---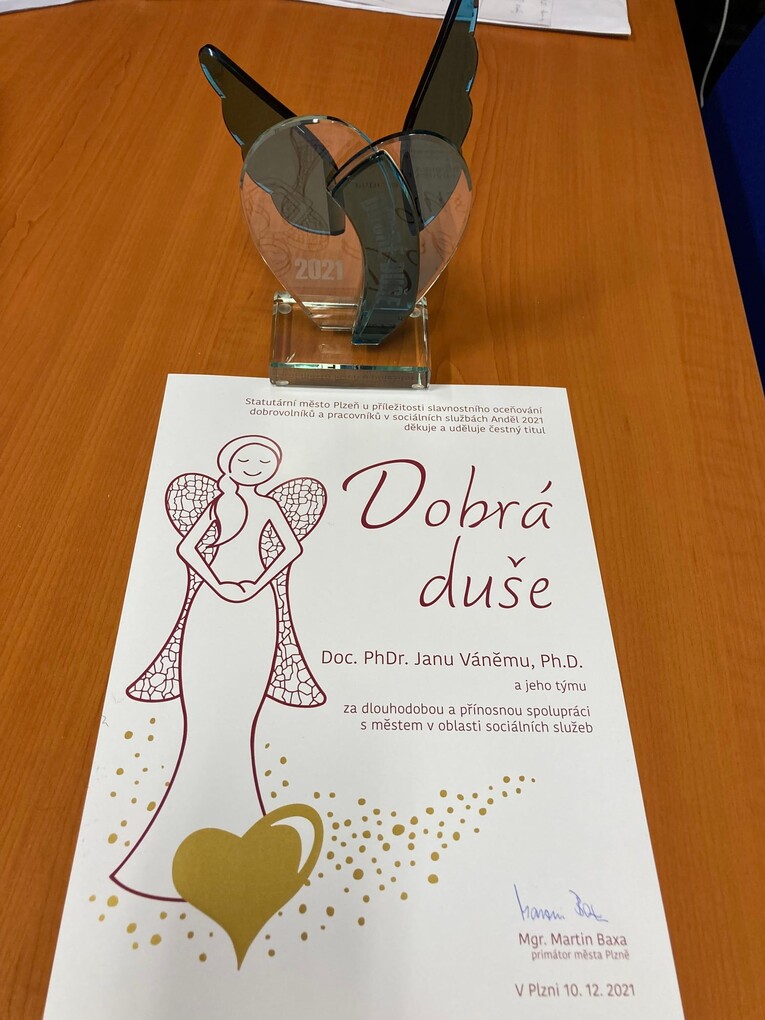 Faculty of Arts

Pavel KORELUS

20. 12. 2021
---